Das Beste an dem Film dürfte wohl das Zitat (Song: Rolling Stones – Sympathy for the Devil) am Plakat sein: Pleased to eat you! Das ist großartig.
Ich spiele wohl eher Advocatus Diaboli, wenn ich nicht so begeistert von dem Trailer bin, wie es die meisten Filmsites und Rezensenten zu sein scheinen. Ich bin wohl auch eher einer der wenigen Leser des originalen Romans von Steve Alten, der das Buch nicht so überragend und sensationell fand, wie es seinerzeit gehyped wurde und wie es jetzt wieder bewertet wird.
Der Trailer ist eigenwillig geschnitten – manche Szenen wirken geradezu wahllos eingefügt – mit peppiger Sommer-Musik unterlegt und betont coole Sprüche. Das wirkt wie purer Trash! Naja. Es ist letzten Endes ein Jason Statham-Film (Ich mag Statham, nicht falsch verstehen). Statham hat einen Faible für vollkommen absurde, die Grenzen des Schwachsinns überschreitende Action-Filme. Das kann er einfach gut.
The Meg – der Roman – erschien mir einfach nur als die übliche Hai-Story, mit eben einem gewaltigen Vieh. Ich gehe sogar so weit und behaupte mal, dass ein Schwachsinn wie Sharknado innovativer und kreativer erscheint. Auch Bait (2012) war ein hervorragend durchgeknallter Haifilm, in dem ein Tsunami die Mistvieher in ein Shopping-Center geschwemmt hat. Und dann war da der wirklich unterhaltsame The Shallows. Oder 47 Meters Down. Schon die ersten Bilder des Trailers verweisen auf Jaws 3D (das ist der mit dem Vergnügungspark und mit Dennis Quaid – sehr schlechter Film).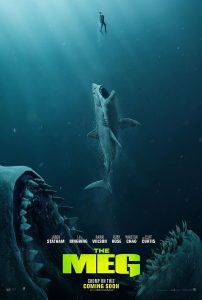 Für den Autor Steve Alten hat sich die Sache jedenfalls gelohnt. Meg war ein Bombenerfolg und hat eine ganze Serie Romane hervorgebracht. Dazu kann man nur gratulieren, selbst wenn man nicht wirklich Fan der Serie ist. Alten hat auch seine 2 Romane der The Loch-Serie mit Meg verknüpft – Bd. 2 The Loch ist ein Prequel zu Bd. 5 von Meg.:
Prequel: Meg: Origins (enthalten in der engl. Neuausgabe von Bd. 1)
Bd. 1: Meg (1997) deutsche Neuausgabe ab Juli als Taschenbuch und eBook bei Amazon …
Bd. 1: Meg: A Novel of Deep Terror – NEUAUSGABE MIT PREQUEL-STORY … englisches Taschenbuch und Kindle Edition bei Amazon …
Seven years ago, and seven miles below the surface of the Pacific Ocean, Dr. Jonas Taylor encountered something that changed the course of his life. Once a Navy deep-sea submersible pilot, now a marine paleontologist, Taylor is convinced that a remnant population of Carcharodon megalodon—prehistoric sharks growing up to 70 feet long, that subsisted on whales—lurks at the bottom of the Mariana Trench. When offered the opportunity to return to those crushing depths in search of the Megs, Taylor leaps at the chance… but the quest for scientific knowledge (and personal vindication) becomes a desperate fight for survival, when the most
vicious predator that the earth has ever known is freed to once-again hunt the surface.
Bd. 2: Meg: The Trench (1999) … englisches Taschenbuch und eBook bei Amazon …
Four years after the incident at the Mariana Trench that unleashed a pregnant Megaladon, Jonas Taylor now houses her one surviving offspring at the Tanaka Institute. Deep in debt, Taylor has turned to an eccentric billionaire to help keep the institute afloat, but it doesn't come without a price. Drawn into a web of deceit and lies, plagued by nightmares of his own death, Taylor must once again face frightening monsters of unimaginable power. Only this time, it's not just the sharks he has to watch out for.
Bd. 3: Meg: Primal Waters (2004) … englisches Taschenbuch und  Kindle Edition bei Amazon …
Eighteen years after a Megalodon shark escapes the Tanaka Lagoon to return to the Mariana Trench, struggling former adventurer Jonas Taylor is recruited to appear on a new survival series aboard a Spanish galleon replica, a job with unexpected deadly challenges.
Bd. 4: Meg: Hell's Aquarium (2009) … englisches Taschenbuch und Kindle Edition bei Amazon …
Steve Alten's epic fish story continues in Hell's Aquarium, fourth of the MEG novels. The Tanaka Institute's captive Megalodon, Angel, has birthed a litter of pups. Two—Mary Kate and Ashley—are destined for a home in a massive new attraction being built in Dubai, but only if Jonas' son David agrees to serve as their trainer. And why wouldn't he? For the brash young 20 year-old, it's an opportunity to strike out on his own and prove himself, applying the knowledge he's gained working alongside his father. Once in Dubai, however, the job proves very different from what was described back home, and here…there be dragons. The next generation of Taylor to take up the mantle of deep-ocean submersible pilot may be coming into its own much sooner than expected!
Bd. 5: Meg: Nightstalkers (2016) … englisches Taschenbuch und Kindle Edition bei Amazon …
In this fifth installment of the New York Times bestselling MEG series, Nighstalkers picks up where MEG: Hell's Aquarium left off. Bela and Lizzy, the dominant Megalodon siblings from Angel's brood, have escaped the Tanaka Institute to roam the Salish Sea in British Columbia. While Jonas Taylor and his friend Mac attempt to either recapture or kill the "sisters," Jonas's son, David, embarks on his own adventure, motivated by revenge. Having witnessed his girlfriend's gruesome death, David has joined a Dubai Prince's ocean expedition, tracking the 120-foot, hundred-ton Liopleurodon that escaped from the Panthalassa Sea. Haunted by night terrors, David repeatedly risks his life to lure the Lio and other prehistoric sea creatures into the fleet's nets, while battling his own suicidal demons.
Bd. 6: Meg: Generations (2018) – 1. Auflage Hardcover exklusiv NUR BEIM AUTOR …
**
Darüber hinaus hat Steve Alten auch die The Loch – Duologie mit Meg verknüpft. Der 2. Roman, Vostok, ist zugleich die Fortsetzung von The Loch und ein Prequel zu Meg: Nightstalikers (Bd. 5).
Meg Bd. 4b: The Loch Bd. 2: Vostok: … englisches Taschenbuch und Kindle Edition bei Amazon …
East Antarctica: The coldest, most desolate location on Earth. Two-and-a-half miles below the ice cap is Vostok, a six thousand square mile liquid lake, over a thousand feet deep, left untouched for more than fifteen million years. Now, marine biologist Zachary Wallace and two other scientists aboard a submersible tethered to a laser will journey 13,000 feet beneath the ice into this unexplored realm to discover Mesozoic life forms long believed extinct–and an object of immense power responsible for the evolution of modern man.
The Loch Bd. 1: The Loch: englisches Taschenbuch und Kindle Edition bei Amazon …
Marine biologist Zachary Wallace once suffered a near-drowning experience in legendary Loch Ness, and now, long-forgotten memories of that experience have begun haunting him. The truth surrounding these memories lies with Zachary's estranged father, Angus Wallace, a wily Highlander on trial for murder. Together the two plunge into a world where the legend of Loch Ness shows its true face.
Nun gut, hier also der Film mit dem Riesenhai.
---
---
Der Beitrag [SPECIAL]: Meg (Meg-Romane und Filmtrailer) erschien zuerst auf Kultplatz.net …
---
.